AI & Tech in the Legal Profession
Jun 15, 2017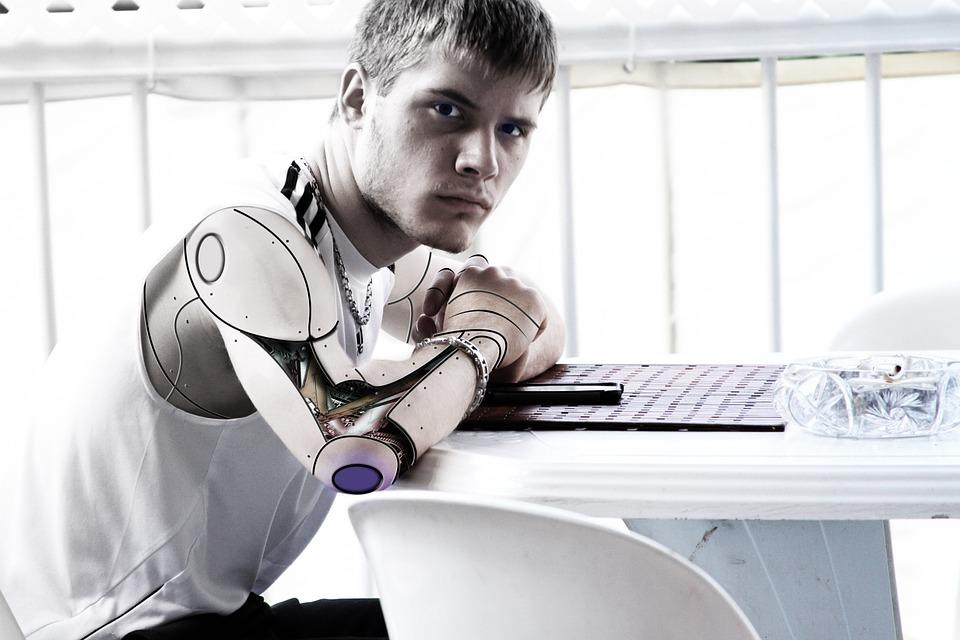 When the news of ROSS the AI lawyer made worldwide headlines in May 2016, it had made what many believed a concept in theory into reality. Since then Artificial Intelligence has been a hot topic of debate.
"How effective is it?"
"How can it be used?"
"Will lawyers and legal support staffs lose their jobs in the future?"
At this early stage of the AI movement in the legal profession, it is difficult to predict how the industry will be disrupted by this new technology. However, we hereby share a generic background and some opinions on this matter.
General background – Early History
The theory of AI and automation have existed since the 1950s, with pioneer scientists such as Marvin Minsky and Norbert Wiener leading the way. In the following decades, academics have explored the concept leading to the creation of various system.
In 1970 – Stanford Law Review published an article "Some Speculation about Artificial Intelli­gence and Legal Reasoning" by Buchanan and Headrick which pointed out the importance of analogical reasoning.
In 1977 – the Harvard Law Review published the TAXMAN paper by L. Thorne McCarty who built the first accounting-related expert system.
In 1978 – Doctoral research on using AI for legal information retrieval (IR) by Carole Hafner.
By 1981 – Legal decision making system for civil liability built by Donald Waterman and Mark Peterson at the RAND Corporation's Center for Civil Justice.
1987 – First International Conference on AI and Law was held in Boston.
For details of the history of AI in the legal profession, we recommend the following article published by the International Conference on AI and Law:
http://www.cs.uu.nl/groups/IS/archive/henry/ICAIL25AuthorsVersion.pdf
Current Landscape of AI and Legal Tech Startups
Despite the ongoing research and inventions, the use of AI technology by law firms have been a slow progress compared to other industries such as health and Fin Tech. The conservative nature of the profession, different legal systems between countries and changing jurisprudences are considered the main reasons for the slow growth.
Although e-discovery programs have been available since the year 2000, it is from the year 2010 did the legal tech startups began to gain momentum. For example, AngelList (a U.S. website for startups and investors) records the number of listed legal tech companies as 15 in 2009 compared to 1,164 in 2017.
Obvious trends are developing in the legal tech with startups targeting financially savvy consumers on the one hand with DIY sets, and expert programs for legal professionals to reduce their workload on the other. There are some divides between legal tech startups depending on who they are targeting as users. The complexity and areas of law vary dramatically depending on whether the targets are: individuals/small businesses; corporations; smaller law firms; large law firms; governmental departments.
The following article published by the Michigan State University College of Law provides an easy to read explanation of legal startups.
http://digitalcommons.law.msu.edu/cgi/viewcontent.cgi?article=1540&context=facpubs
Different categories of services provided by legal startups
Marked boxes indicate less applicability. The asterisks indicate categories with high compatibility with AI. Bold services indicate greater varieties within the particular category. It is not uncommon for a startup to provide a combination of services although small startups may purely focus on one.
| | | | | |
| --- | --- | --- | --- | --- |
| Services | Individuals/Small Businesses | Corporation | Legal professionals | Government |
| Lawyers Matching/ Assessing | | | | X |
| DIY | | X | X | X |
| Tiny Law | | X | X | X |
| Templates | | | | |
| Automatic Forms | | | | |
| Remote Legal | | | X | X |
| Dispute avoidance tools | | X | X | X |
| Collaborative tools | X | | | |
| Litigation Finance | | | X | X |
| *Client and Case Management | X | X | | |
| *HR/ Outsourcing | X | | | |
| *Document Management | X | | | |
| *Compliance | X | | X | |
| *Risk Management | | | | |
| Professional Network | X | X | | X |
| *Analytics | X | | | |
| Professional development | X | X | | X |
| Communication tools | X | X | | |
| *Data management | X | | | |
| *Prediction tools | X | | | |
Artificial Intelligence
AI has a growing role to play in many categories listed above, especially in Analytics and Prediction tools and possibly more in the future. The following chart, created by Thomson Reuters in its article, "Artificial Intelligence in Law: The State of Play 2016" shows the different features of AI visually.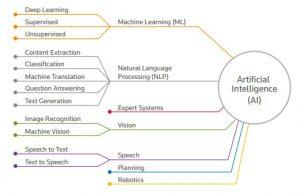 The biggest strength of AI is its ability to process complex information and huge amount of data quickly and accurately. Reports of its effectiveness have been positive.
For example:
RAVN Systems can review documents within minutes when lawyers would take days
ROSS Intelligence claims to save 20 to 30 hours of research time per case
Fukoku Mutual Life Insurance believes that IBM's Watson AI can increase productivity by 30%
University of North Carolina School of Law predicts that lawyers' hours would be cut by 13% or 2.5 percent annually over five years
Considering AI's strength in data analysis, it is no surprise that large law firms are the first to utilize this technology. The first AI lawyer ROSS was hired for banking law by Baker & Hostetler. It has been predicted by Accenture (ACN.N) that within three years, AI would be the main method of contact between banks and their customers.
Some of things AI is already used for include:
Contract review and comparison
Case analysis and precedent analysis
Data management and retrieval
Legal discussions (Q&A)
Despite the advantages, a survey of top 386 U.S. law firms conducted by Altman Weil indicates that only 7.5% of firms are using AI technology. The chart below shows the prevailing attitudes of firms towards AI.

Concerns on job prospects
With AI likely to perform document review, research and case management in the future, there is a concern that young lawyers and professional support staffs currently performing such duties would be displaced. Computerization greatly affects the employment market and an Oxford research paper highlights that those currently on the lower end of the hierarchy are most at risk:
http://www.oxfordmartin.ox.ac.uk/publications/view/1314
There are some optimism however, suggesting that new jobs to administer the use of AI would be created in the future. Students nowadays should consider combining their law studies with an IT discipline.
Another is that AI will eventually lower the legal costs overall and expand the market to those who currently cannot afford a lawyer. With a bigger market, more work would be available.
With AI doing the drudge work of document retrieval, lawyers can focus on other skills and qualities that make a good lawyer such as empathy, good judgement and communication in particularly client management and advocacy.
Similar to technologies in the past, it is likely that over the next decades there would be mixed attitudes and approaches. Law firms undertaking corporate matters would likely embrace the AI technology for its efficiency while others are likely to retain the artisan attitude, but utilize some tech innovations as supplements, for providing tailored services.
See our Blog for more posts.
You are welcome to contact us via the Contact Form to discuss and for more information.