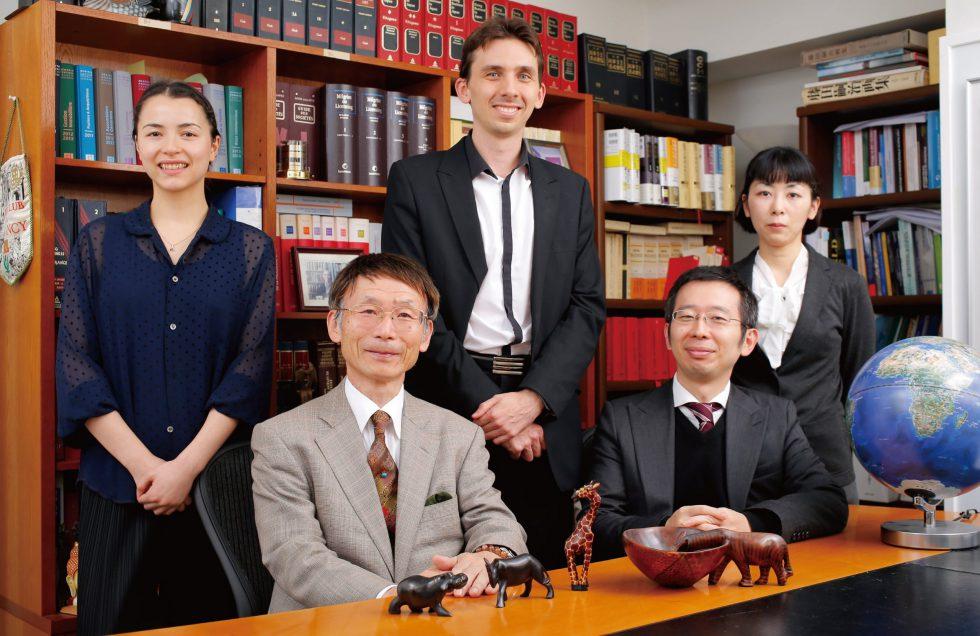 Akasaka International Law, Patent & Accounting Office (AILAW) is an international law firm in Tokyo engaged in both domestic and global corporate matters. In recent years, our boutique law firm has had a strong focus on corporate and venture-related work and developing an extensive network expanding into France, Israel and African countries. Our purpose is to create a secure business eco-system and legal infrastructure that enables people with innovative mindsets to pursue their purpose of changing the world. We envisage a future where professionals are not limited by traditional stereotypes but solve problems of modern society in an innovative structure that combines law, marketing, and technology.
World Coverage
Japanese・English・French・Chinese speaking countries
Europe (French & English)
Africa (French & English)
North & Latin America (English)
Middle East (English & French)
Oceania (English)
Asia (English, Chinese & Japanese)
Practice Areas
For many years, our practice centered on various corporate legal affairs. Contract drafting, due diligence (Japan and overseas) and labor disputes are just some examples of our work. Concerning IP cases, we work together with governments, rights organizations and other stakeholders in resolving dispute cases, trademark applications and the management of world famous painters' works.
Our office centers on the following three pillars of practice for the future:
1. Venture hub
We nurture venture startups until IPO and also assist with M&A matters even when difficult. Focusing on the needs of the startup management, we build a robust regime for our clients. Our understanding of the startup culture and VCs allow us to provide experienced advice and support in financing and planning.
2. Global venture hub
Ventures starting out should have their visions on the global market and plan accordingly from the beginning. Our office provides advice on various domestic and international regulations, we will conduct verification experiments in the most appropriate countries without being trapped in Japan, and respond to global expansion.
The vision for our international law firm is not only to collaborate with major domestic companies in Japan but also to work with major overseas companies or ventures that are relatively easy to work with. Encourage open innovation, localize in other countries, or quickly develop superior technologies from other countries in Japan to gain market share. By taking a customer list, you can create a sales channel where you can sell your products. By shifting cash points, your company can develop dynamically.
3. Digital transformation
When considering the issues of the Japanese ecosystem in light of those in the United States, Israel, France, and other countries, we realized that Japan's slow growth is due to a lack of balance between working hours and productivity.
I realized that the reason why Japan's salary is not increasing is that there are many Japanese workers who are unable to utilize advancing technology in Japanese companies and that they lose the opportunity to increase their productivity using technology.
Digital transformation is not simply digitalizing existing tools, but also changing the profit structure, that is, the business model itself must change. At our office, we have researched and explored various business models and we propose suitable restructure plans as part of our consulting service. It is essential that troubled business owners consult a third-party to see things from different angles. We select and propose models that fit your company from both domestic and overseas business models.
Be aware that most digital transformation business models are J-curve models (dig deep into the red before making a profit). There are many cases where it is necessary to keep a distance from related parties and collaborators. You will now need to decide whether to seize the present or the future. Our office will be grateful and considerate of those who have supported your business for many years and would assist you in transforming your business without worries. In order to grasp the future, you need to make concrete decisions on your vision, strategy, execution and tactics. We work and develop in these areas and utilize our network in solving problems.
For building upon the above three pillars, we handle a variety of case matters such as domestic and overseas labor, corporate law, disputes, and all types of intellectual property. For matters that are not considered to be our strengths, our firm provides referrals to our collaborators with our clients' best interests in mind. For example, introduce other partners for tax and immigration matters.
Alternative strategies
Our alternative strategies include:
Open innovation both domestic and abroad
Public affairs (helping with law-making)
Shadow agent (help you negotiate without the other party's awareness)
Pre-negotiation support
Crisis management
Helping new business
Our compensation
Revolutionizing delivery times, costs and quality. We create an environment where you can focus on your business with peace of mind upon concluding a retainer with us.
For more information, please refer to the fee schedule page.
Main customers
Our international law firm has dealt with the following clients:
Listed companies
Financial institutes
Governmental departments
SMEs
Universities
Startups in Japan and overseas.
Professionals such as lawyers and patent attorneys also consult us.
We also support artists such as famous painters.
Websites mentioning our law firm
Contact us
Please email us at ailaw-info@ailaw.co.jp or send us a message through our Contact Form.